This is one of many photos of Mirtis. It just happens to be one of the one's where he looks the most Bad Ass.
However, if possible, I WOULD like his fur to be a bit "darker". A little more Black, a little less Grey.
Note also not pictured, is his little dagger/short sword, His FSF Shiny, or his short bow.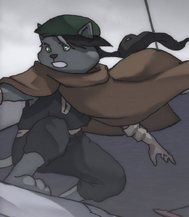 Further proof of Mirtis's bad assness.
AND if it comes down to it. He's got a set of wicked cool scars a full on riding tiger gave him. Though they have mostly healed over.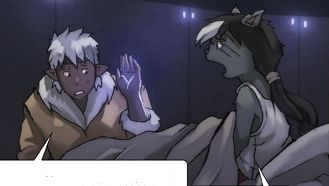 --------------------------------------------------------------------------------------------------
Name: Mirtis
Race: Panther/Forest Feral (Tall! TALL TALL!)
Profession: Leader of Feral Special Forces/Scout/Liberator of shinies!
Martial Ability: High Speed Pounce! (Especially from a height) Also Bow and Arrow.
Costume: Starting at the top and working our way down. He wears a carefully folded Forest Green Beret on his head most times. In solemn ceremonies it is removed. He wears a dark brown water-proof cape. A Black shirt vest is worn under his cape with a "Shiney" winged sword pin on his chest. He wears somewhat loose baggy black pants held up by a sash. Strapped to his thigh is his "Just in case". Because you just never know.
Personality: Has lived for quite some time as a fairly disciplined, martial Feral. He attempts to lead and guide the younger Ferals in his band to the best of his ability, however sometimes shinies are just too distracting.
Favorite Saying: "Listen, Smell, Watch, Feel and Learn. All senses are necessary."
Quirks: Absolutely LOVES Water. Bathing in, swimming in, hiding in. Loves heights and is unafraid of jumping from heights. Is decently good at resisting the lure of shinies. Not totally immune, but has decent willpower to focus. Has horrible singing voice, except when calling marching cadences. (See Link below for idea of marching Cadence)
https://www.youtube.com/watch?v=t98kmvWuexg
Inspirational Picture:
http://c.suite101.com/files/styles/arti ... 003630.jpg
http://www.specialforces.com/newsletter ... bit_02.jpg
(Way beret should be "folded" on the head.)
http://rlv.zcache.com/halo_wings_specia ... vr_512.jpg
(Basic inspirtation for winged sword pin) Parachute part not necessary.