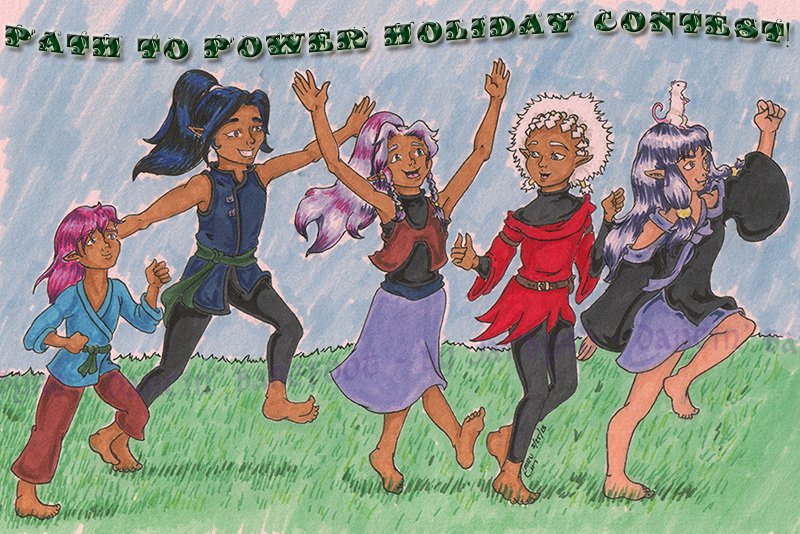 The Tei'Kaliath need a Holiday Contest!
Yes, let's all take a holiday; I think we've earned it… Oh wait! We don't have any official holidays; let's fix that shall we?
Yes, this is the official make a Tei'Kaliath Holiday Contest where you can help contribute to the culture of the game and the Clan by making a Holiday.
Info we're looking for (this is just the basic info, if you want to add more, DO IT):
1. Name of the Holiday
2. What season is it celebrated in?
3. What is the Holiday's history?
(See guidelines below)
4. How is the Holiday celebrated? You must detail
three
of the following at least:
What are the activities people do? (Games, dances – explain and give examples)
What songs are sung? Give an example (i. e. write a song)
What is the color theme?
What foods are traditional for this holiday? Give some examples (i. e. make a recipe)
What decorations are usually put up?
5. Any other information or even images to help illustrate your holiday
Sounds easy, right? Well hold on just a sec as there are a couple things I'd like you to keep in mind when writing up your holiday information:
Guidelines and No-no's:
1. Your holiday must be non-religious. The Tei'Kaliath have no main religion and we need to stick to that.
2. Please avoid too much Tir'ay, even though Tir'ay is a big part of the TK Clan, we have holidays dedicated to Tir'ay, they're called Tournaments.
3. You can base it on a real world holiday, but the judges are going to look for originality and creativity.
4. Try to keep this semi-serious, in other words, this can be a fun holiday
(as aren't all holidays supposed to be 'fun'?)
, but if you do a joke holiday just to be funny, then it will be taken exactly as that, a joke and won't be in contention for the prize.
The Judges:
Thalar, Jai'byrd and Catriana
The Prize:
A full color commission of your character (or another of your choice) by DT artist of your choice ($100 value, paid by me Jai'byrd) and a three month PtP Citizen membership for either you or a friend.
The Deadline:
Midnight June 30th, 2013 EST (GMT -5)
(so you have a little over a month)
– Winners will be announced sometime after that.
Send your entries to me,
Jaibyrd
either via PM or email at
jaibyrd AT gmail DOT com
by the deadline above. Please title them "Drowtales PtP Holiday Contest" and please include every thing the first time you send it
(I really don't want a dozen PMs or Emails from the same person, it makes it very hard to keep track of it all, so keep it to one message please)
.
If you have any questions, post them in this thread and I'll try to answer them as best as I can.
Good luck! Have fun! Party on!