Hey, guys...
I thought I'd present some artwork of mine.. I'm not so great. It makes me sad to admit that.. but I have dreams.
Such as:
1.) Oneday becoming a voice actor for one of the big companies. AnimEigo, Geneon, ADV Films, (FunIMATION must COUGHDIECOUGH).. so on. I will admit that
I feel like I have talent there.
2.) Creating my own Manga Series! Yaaaaaay. Along this line, I am actually hoping to create my own web-comic, too. Again, I am overly critical of m artwork,
that I know, but I know I could improve. Seeing artwork like Kern's and some of the guest panels.. as well as Daydream.. x-x... makes my hopes soar. Aim high!
3.) Creating my own anime series (indicative of number 2.) Same deal...
4.) Visiting Japan for an extended time.. I'll have to move with my Fiancee, lol.. well she's not that YET but I have hopes. ANWAY.
5.) Completing my Foreign Language degree. (It comprises of two languages, L1 and L2, French and Japanese respectively.)
6.) Related to number 5, I want to learn lots of languages: Chinese (Mandarin & Cantonese), Japanese, French, German, Russian, Hebrew, Greek (Ancient & Modern), Korean, Latin, Italian, and a few "not real" languages such as Draul (Drow), Elven, aaaaand (insert more here when comes to mind). So yea.
I have other goals, but I won't take up too much more of your time.
Here are some samples of artwork I have created in the past. Note that none of this is DrowTales oriented simply because, well.. I joined like five days ago. (Known about it for years.)
NUMBA ONE:
I call her Shikodomo. She's a character I created in the Ah My Goddess! Universe.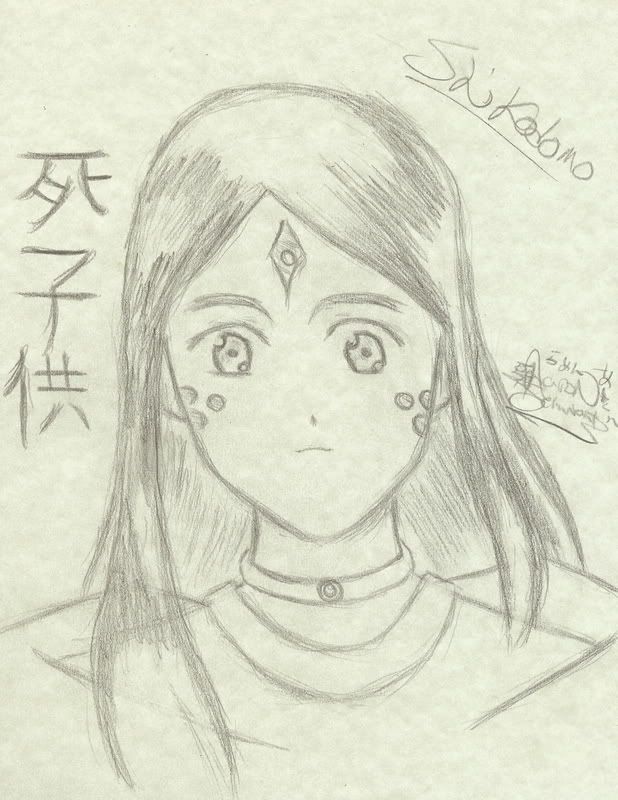 NUMBA ONE, Color Test 1, Fancy Art Markers ?! (FaberCastell, if you must.):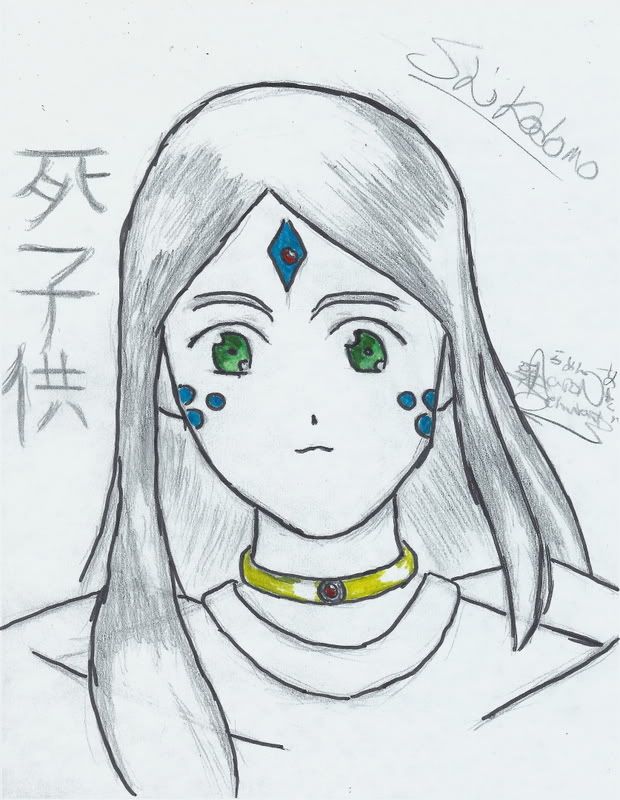 NUMBA ONE, Color Test 2, Oil Pastel...thingies.: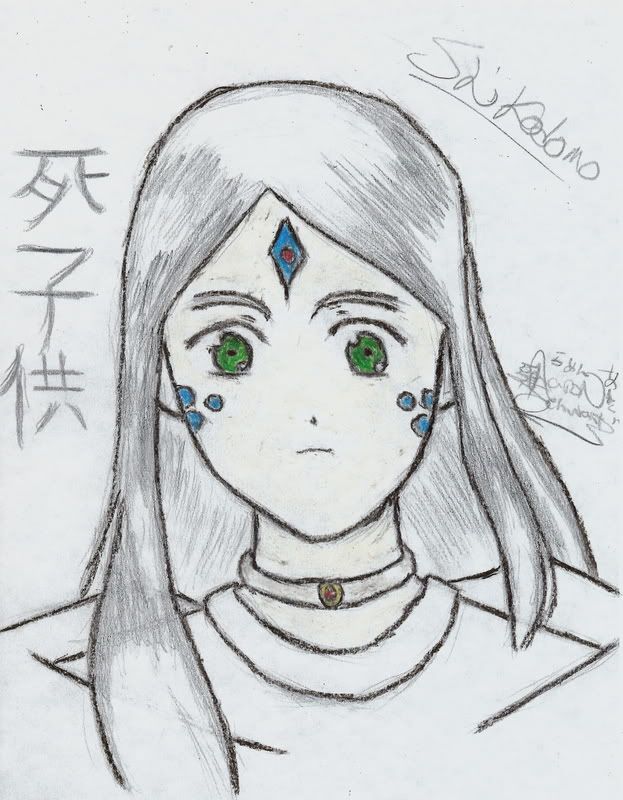 NUMBA TWO:
This one is Mara, from the Ah My Goddess! Universe.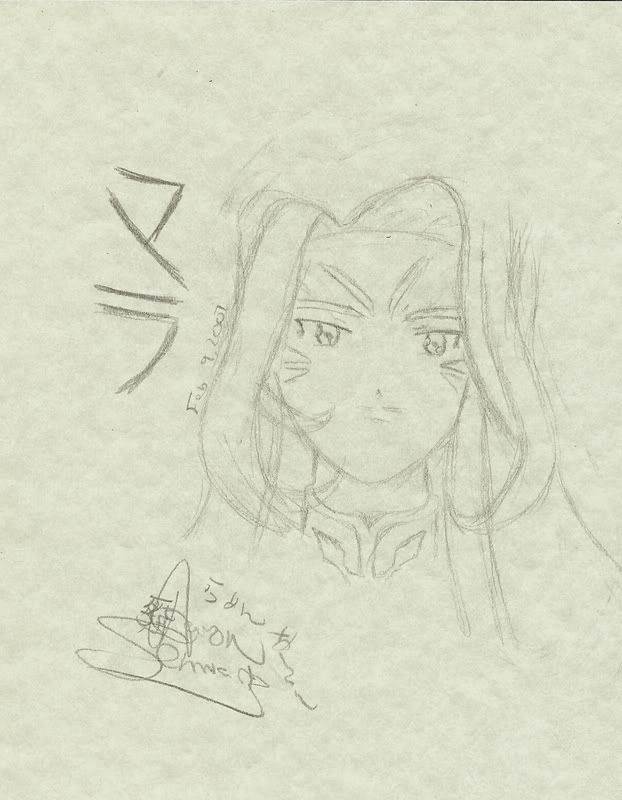 NUMBA THREE:
This one is Urd with a color test.. I'm not sure where my original went. x-x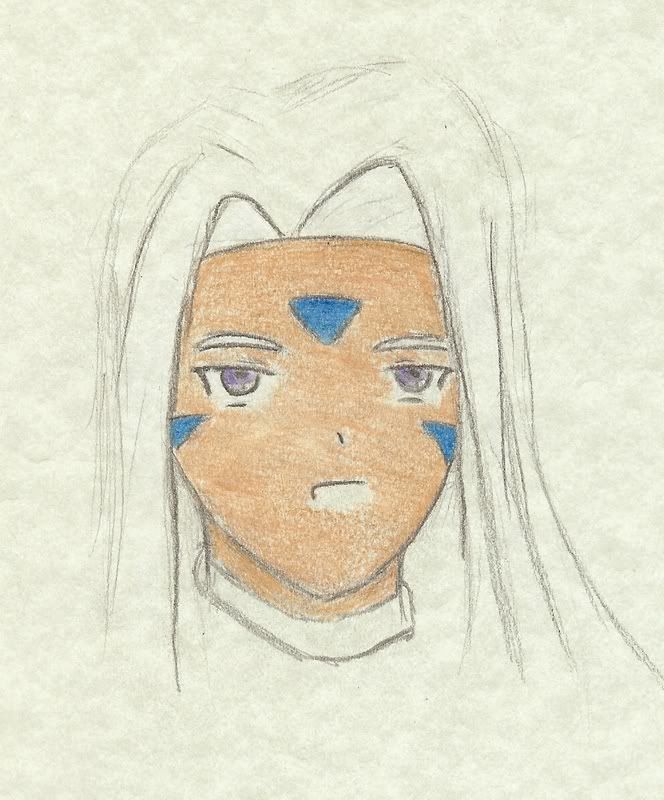 These are what I have right now.
I currently don't have access to a scanner.. and my picture phone is being a nuisance. Oh well. Like I said, not great...
Then again those pictures are nearly three years old.. x.x Oh well! Hope you enjoy. I'll post a little more when I get
this stupid camera to cooperate.