What if, like in Earth Age, all the Drow city states appear on Earth, but not the Earth we know. This is the Earth from the Command & Conquer: Tiberium Series universe. The Date - July 2nd, 2030 - just two months before Kane resurfaces and starts the Second Tiberium War (aka the events of Tiberian Sun). These are the Drow cities as of just a year before the Nidraa'chal War, so the Dutan'vir are still in power, and Diva is still Empress. The second war between the Global Defense Initiative and the Brotherhood of Nod is just around the corner, even though no one knows that yet. Meanwhile, out in the Kuiper Belt, the mysterious aliens known as the Scrin are waiting for the right time to strike. The A.I. known as CABAL is planning something, unknown even to his Nod masters. Kane is lurking in the shadows, about to resurface. Smarter than Snadhya and harder to kill than Kuso, the leader of the Brotherhood of Nod - and former adviser to Josef Stalin - who has been on Earth since the Bronze Age, and was, in fact, the one who inspired the myth of the Biblical Cain, has a plan - the forced transformation of all life on Earth into Tiberium-based life. Throw in the Forgotten - humans mutated by Tiberium with a strong grudge against both GDI and Nod, and you'll have the recipe for this scenario.
As to where each Drow city-state ended up:
Nuqrah'shareh: Northeastern U.S. - Pennsylvania/New York border
Chel'el'sussuloth: Florida
Mimaneid: Norway
Shifaye'sindil: Egypt
Char: Southern India
Felde: Colombia
As to how things unfold from here, personally, I see the Nal'sarkoth, Tei'kaliath, and maybe the Illhar'dro establishing good relations with GDI. The Sarghress MIGHT, but I don't think GDI would take too kindly to their raids. And by "not take too kindly", they would politely ask them to stop. And by "politely ask them to stop", I mean "Drive a Mammoth Mk.2 into Chel, and threaten to level the fortress if they don't".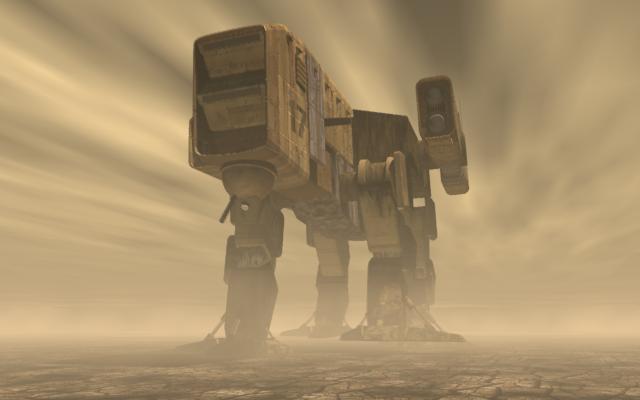 Nothing like having a railgun-equipped AT-AT expy show up to make you consider changing your position.
I don't see GDI or Nod getting along with the Sharen. At all. Hell, I don't think Nod and the Drow would even tolerate the other's existence.
Also, how long until Nod general and Colombian drug lord Cesar Vega:
Crashes Kane's stolen Scrin warship:
Into Felde? And who kills him first? Michael McNeil, Anton Slavik, Snadhya, or Kane?
What other thoughts do you have for this?