Available races:
All characters starting in Raveran are free citizens unless the player wishes otherwise. See
viewtopic.php?f=82&t=12195#p588902
for more information.
Fae
Drowolath
Drowussu
'lath-'ssu halfbreed*
Ne'kalsaider*
Xuile'solen*
Light elf
Ver'drowendar*§
* Targeted by Kyorl'solenurn due to impurity / corruption / being abominations / harboring demons
§ Targeted by Duskians due to corruption / harboring demons
Nonfae
Rift halmes
Halmes
Emberi
Kotorc
Noz
Dvergar
Feral
Available clans:
Ravenite:
Ailee'khevlani
Aqrab'akkar
Deme'dichi
Qin'dalasque
Vir'reska
Chelian:
Val'Beldrobbaen
Val'Kyorl'solenurn
Val'Nal'sarkoth
Val'Sarghress
Val'Sulissin'rune
Vel'Vloz'ress
Nuqrahn:
Balvhakara
Dusk
Val'Illhar'dro
Jie'yen
Clan relations chart
You may need to right click the image and choose View As or something similar to be able to view the whole chart, unfortunately. (Updated 25.nov 2012)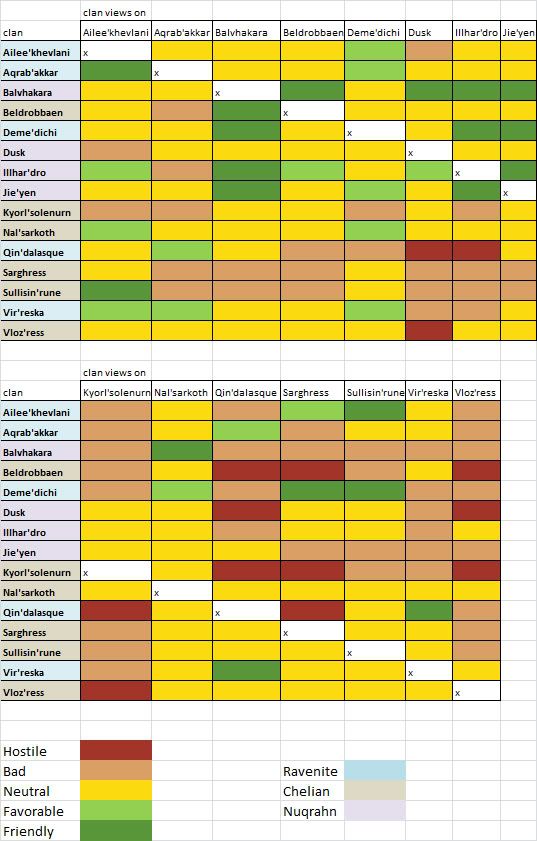 Please note that each row shows that clan's view on the other clans.
Two clans do not necessarily view each other in the same light. Therefore, please look at the rows, not the columns, when trying to figure out how one clan views another.
Example:
The Aqrab'akkar are Neutral toward the Illhar'dro. But the Illhar'dro see the Aqrab'akkar in a Bad light.