Pretty much all the things I've come up with while here
From oldest to newest.
Metalworking Related:
weapon and shield designs. From the bucklers that were inspired by Ariel's big brother's weapons the guy with the blades on his arms), to a "blade breaker" sword hilt, and a 3 piece nunchuk spear ripped off from bleach. The two shields were meant for separate purposes. The first shield acted as an arm guard, a vambrace maybe? either way. You could draw a string (or activate a golem) and it would fold out into a shield, but only when you needed it too, rest of the time it was a non bulky arm guard. My pride is the final shield. Heavy shield, meant for warriors who would be pushing back the front line for the Archers to come in. They'd then plant these suckers in the ground, and activate the golem. The golem unfolds the shield, and spreads a chainmail cloak between the arms so as to provide the same effect as a tower shield for any crossbow wielders or mages we had. Not as useful now since our ranged weapon users are our stealthy scouts.
Scout armor. Back when we were first designing it. After Quel died. Our second scout master loathed it though, thought it made the scouts look like cockroaches. Hey, maybe our current scout leader would like it? YO! KITAB! YOU READING THIS? WHAT'CHA THINK?
I put this hear for posterity and completeness alone. Period. I loath these armor designs... HATE THEM. DO NOT MENTION THEM IN THIS TREAD <tries to hide them again>
(original)
http://s49.photobucket.com/albums/f267/ ... tpgift.jpg
(with Thindra's Improvements)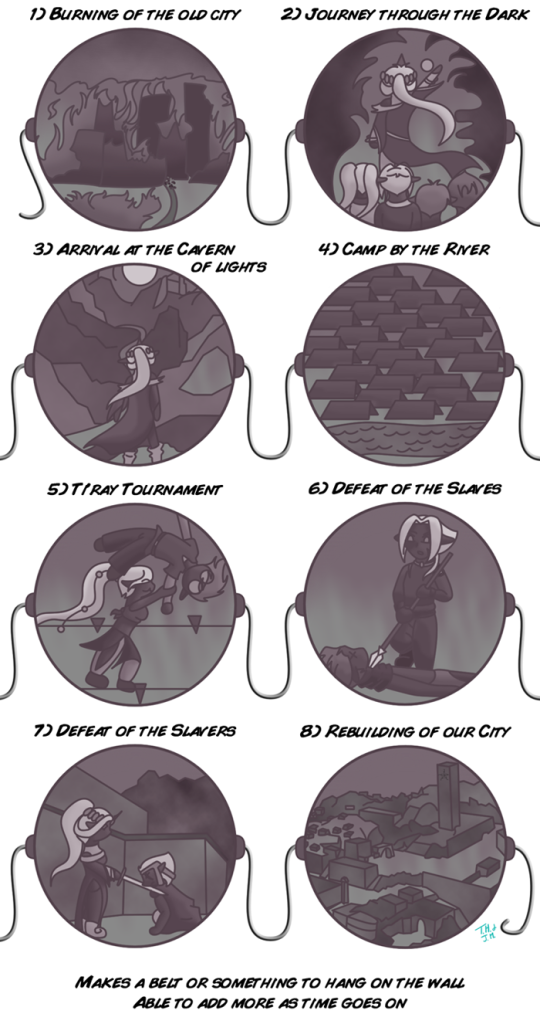 And this is why I got Thindra to make my comic rather than drawing it on my own. She's a fantastic artist (especially compared to me) and this was our combined submission for An'Jhali's christmas present. I think the bath tub won though... or was it the throne... either way.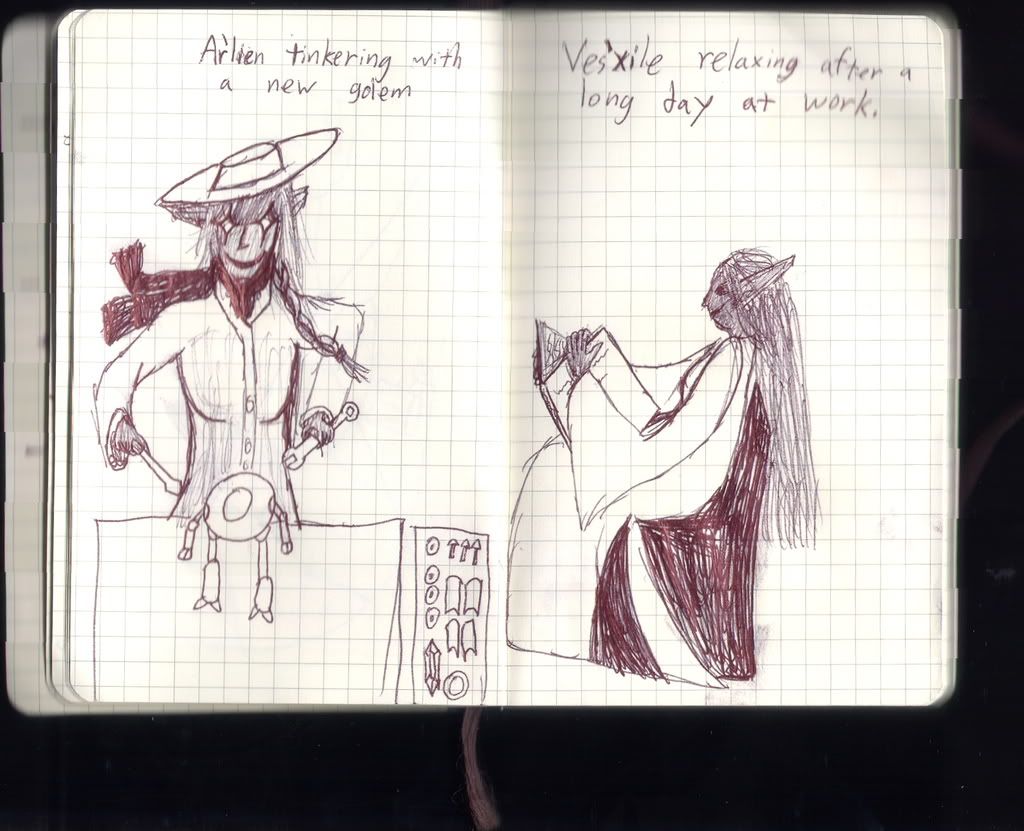 Something I drew either in response to Kirio's kid's drawing, or a contest, or something... I can barely remember. All I know is I'm still pretty happy with it even if it displays my glaring lack of ability to draw faces once again.
Back during the festival I remembered suggesting to make small metal jewelery items. These are the things I suggested. My personal favorite is STILL the Golem Watch, which could probably be made on the waste crystals we still have up in the ceiling. Each person would tell us their usual schedule, and we'd make a carved disk to insert into the clock and be turned about so they know what time it is for them. Otherwise we could just give them a basic watch with different sun and moon symbols showing the rise and setting of the sun and moon(s?) or something equally classic (maybe the hours are named after the clans
put the clan symbols along the edge?) You guys get the idea.
Also, we probably SHOULD make An'jhali a signet ring... seriously, those things are useful for signing agreements and providing proof. It's THE stamp of approval. Especially if you mix in a little of your blood into the wax, since apparently you can test if somebody is really who they say they are, or at least who they are descended from, based on their blood (see where Quaintain is challenging her house leaders too challenge Ariel's right to be the heir)
Architecture Related:
http://s49.photobucket.com/albums/f267/ ... lmap-1.jpg
A=Miner Camp
B=Hunter Camp
C=Farms
D=Gather Housing
E=Farmer/General Housing
F=Trading Post/Hospice
G=Irrigation
H=Look Out Towers
I=barred grate for river
J=Walls and gates
K=Defensive traps/emplacements
l=Bridges
Still one of my favorites. Design on how I saw the map looking and we were trying to plan ahead. Of course, making a wall would be suicide now, but meh, we'll figure it out.
edit: Also have a design based on civil war/Napoleonic war era fortifications that was supposed to go where the walls near the hospice are
but since that's not much of an option it'll just be uploaded for posterity more than anything.
UPDATE1
(added today, idea for how we could have neat little farming areas with warehouses as well as light and heat on them, possibly even fish culturing pools in the reservoir below)
'nother idea I had for an all purpose golem that could be combined with gears and mechanisms to produce what we needed. Meant to be a kind of modular power source for mechanical golems (coughclankscough) that aren't purely mana based.
another image I dredged up, an insane system that would move a single golem back and forth in the mines (showing how it would move around corners) that would also power an elevator for ore to be lifted up and down. Whenever the golem went back for ore it would lift up the ore-elevator in such a way that it would be tipped into it's own barrow-holding-thingy. Yeah, totally insane
but thought you guys would find it amusing.