"Complete the Lake Development Plan and restore Stone Harbor as described" (72 letters)
.
The purpose of this project is the long term clearing and restoration of the ruined harbor facility that was found on the lake shore in I-18 and the establishment of other dock sites around the lake that can be used as base camps for hunting. timbering, and mineral searching exploration. By scattering these operations around the lake it is hoped that we can take the pressure off the area immediately around our colony and extend our knowledge of our surroundings.
The Stone Harbor site also has a great deal of potential as a jumping off point for expeditions to Hannen and other points to the west and the existing road, plains, and the previous route followed by the clan when we came here make it the start of the obvious path back there. And by being based at a separate structure away from the main colony with only a dirt road that can be easily hidden and primarily relying on lake travel for communications with Amaverda, Stone Harbor would provide an extra layer of protection against enemies who might try back tracking such an expedition.
The area around Stone Harbor would also be very suitable for a satellite agricultural site and possibly even a settlement for newly arrived colonists and over population from our main colony. The square to the north is ideal for setting up additional farm fields and there is plenty of timber and probably stone in the area as well. Add the naturally occurring mana plants to the west and the proximity of two large ruin sites for exploitation and you have a great location for an exploration and resource base.
I would suggest that the clearing and restoration of Stone Harbor and it's defenses be a time skip project along with the establishment of a lumbering operation (and possibly quarrying) in it's surrounding area. Building it's own sawmill, air or water powered, to produce finished boards and beams would certainly not be out of line. (Mill designs are either posted on this forum or can be requested by PM from Timotheus.)
Establishing a farm site in the square to the north (H-18) would also be possible if there was a need for the produce, along withe the necessary farm structures and possibly it's own gristmill, again air or water powered. Some medium strength defense works would be needed for the farmers to take shelter in if necessary. If the agricultural area is developed then stone roads should be built to connect the two squares.
Housing, in the form of dugouts and wooden shelters could be built within the protection zone of Stone Harbor if the need for them should arise due to the expected immigration rush at the end of the time skip. This would help control any problems that a population surge might cause and allow us to process the newcomers into our culture at a more palatable rate. Just think of it as our own Ellis Island.
Mana gardens should be established for the inhabitants in both squares if they are occupied and a mana park if it becomes a residential area.
Mineral surveying of the two squares and the ones surrounding them should also be included in the square development.
Of course, the development of Stone Harbor would have to be in conjunction with a larger program for the whole lake.
This includes adding three more large sailing boats and six towed barges for hauling lumber or stone on the lake.
It also means establishing three more docking sites besides Stone Harbor for lumbering, hunting, and inshore mineral prospecting around the lake at the spots shown on the map.
RED AREAS ARE RESIDENTIAL ZONES
-
YELLOW ARE ACTIVE FARM ZONES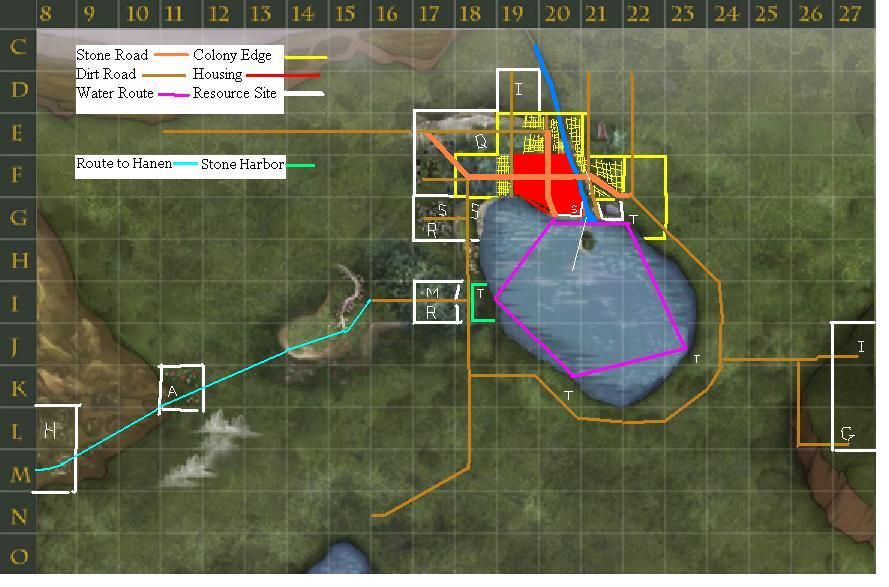 Map details for the Lake project...
Stone Harbor is at I-18 and needs to be cleared and restored, then made defensible and eventually given a mana garden.
I-18 is also forested and would be a good site for selected lumbering and hunting.
H-18 is open plains and would be a good site for a agricultural site.
K-20 is a forested square and would be used for lumbering and hunting.
J-23 is a forested square and would be used for lumbering and hunting. It is also a good spot to connect to the road to the iron and gem mine tunnels in the southern hills. These tunnels should be explored further for additional gems and iron deposits (and whatever else we can find).
G-22 is a forested square close to the first agricultural square. It would be a good spot for close to home lumbering and light hunting.
For the most part these locations are not intended to be outposts, but rather just docks that boats can tie up to while work crews based off them can head inland to hunt, cut wood, or search for minerals or relics. For now only Stone Harbor has the potential for becoming a garrisoned location with long term residents and it's own agriculture and processing sites, and at the moment even it is not really intended to be more than a temporary outpost.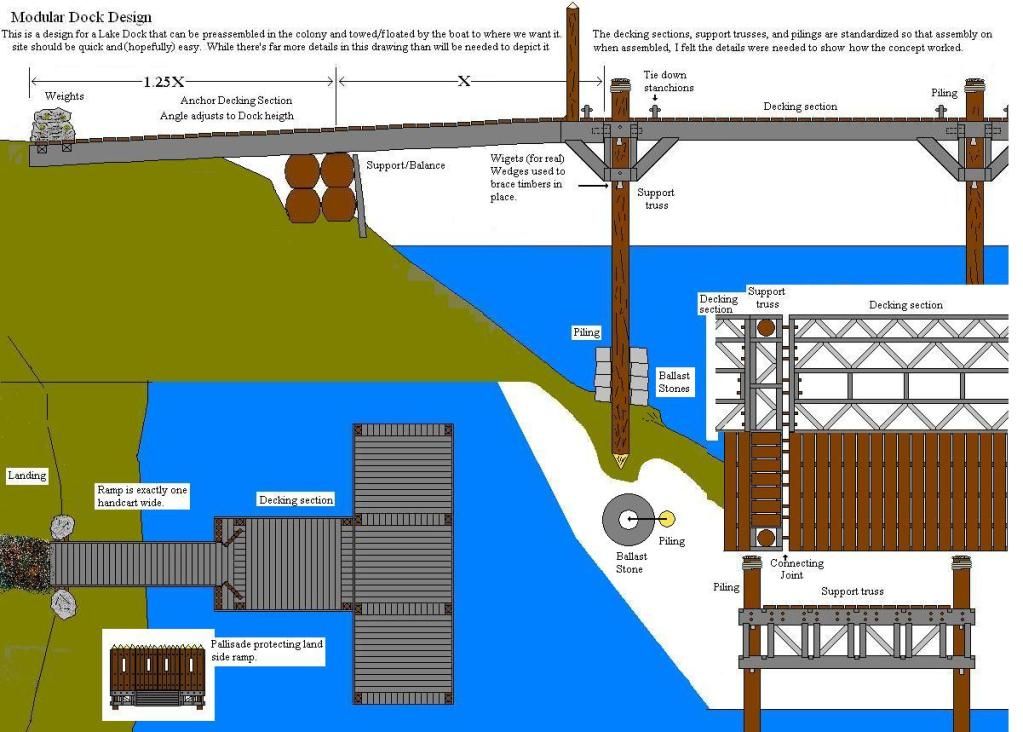 I hope this rewrite answers some of your concerns.