This will be a central topic for listing ideas and projects that will conserve and expand our available mana field.
The projects currently under consideration are...
ONE:
Goal - Using planters and other such containers, to grow mana plants inside and outside all the homes and buildings in Ama'verde to increase the available mana.
Elements - Hanging and ground planters, window boxes, and small garden plantings.
Continue to raise mana plants in nursery gardens for transplant.
(Status - Planters are made, mana plants being raised for transplanting.)
TWO:
Goal - To create a 'green' barrier around Ama'verde to contain the mana we have here
Elements - Plant trees to form an overhead canopy to trap mana inside Ama'verde. (see illustration)
Use trees and bushes to create ground barriers to prevent mana from spreading out. (see illustration)
Build a planter box around the INSIDE of the city walls and plant a hedge. (see illustration)
Construct trellises and mat awnings to cover roads and other open areas where trees cannot be grown. (see illustration)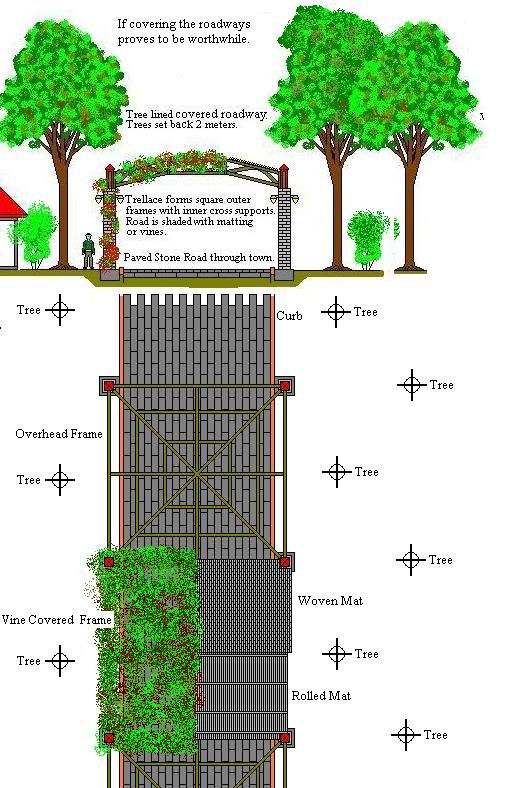 Cautionary Restrictions - The area outside the town walls must be kept clear for at least TWO long bow shots. The areas inside the walls should be kept clear for about ten - fifteen meters from the inside of the wall.
Trees not part of a ground barrier will be pruned and shaped so that they will grow to maximize their overhead leaf canopies while leaving as much open area on the ground under them.
In general, the mana barriers should be built (or grown) so as to NOT CREATE defense problems for the city.
THREE:
Goal - Develop a mana detecting gem or crystal that can indicate the intensity (strength) of a local mana field.
Elements - Using such a device would allow us to determine the effectiveness of various methods of mana conservation.
It would let us measure how much mana is leaking through various materials and barriers or determine how well a substance might restrict mana from passing through it.
It would let us measure how strong a mana source is and how it varies between sources.
From these measurements we can improve both the barriers and the sources.
FOUR:
Goal - To develop a stronger mana plant that can compete with other plants in the wild so we can plant them along our roads and fields.
Elements - Working in the greenhouse and fields, use selective breeding (and the detecting gem) to grow stronger mana plants.
Additional ideas and suggestions will be added as they are proposed and discussed. The final plan will be put up for approval by the Game Master and the Clan Members, but basic elements will be started as soon as possible.