Okay, the primary reason for me tackling our redesign of our swords, as well as assisting Minalia in the redesign of our armor for the Mk.3 Warrior Armor, is that I think it's high time we had a look redesign.
Now before I go any further I want to point something out here. This is not about establishing ONE UNIFORM LOOK TO THE ENTIRE CLAN, this is NOT about installing my personal vision of how we should look. I'm a game design and producer by trade, and that's a collaborative industry, consider this an experiment. Be willing to budge, be willing to give ground, be willing to accept that just because one idea has primacy doesn't mean others cannot exist along side it and you are not required to follow these rules when submitting your own character image or future ones. Most of these things would be applied to our FACELESS population, not the player one, to give the clan a more united, less mongrilish look. We'll have been united with a core population of something like 300-500 people for nearly 3 decades by the end of the next time skip in all likelihood (this is including the first and second exoduses, P2P1, the intermission, and P2P2), we'd not look like a hodgepodge anymore.
We are a diverse clan, but there's a pittiable lack of AWESOME in recent years.
We have had fewer people submitting artwork for our tools and equipment. Less for our looks and our banners. I'm going to be tackling a lot of this. I want people to submit ideas for clothing styles that our faceless might be wearing more commonly here on the surface, I want people to submit to submit articles of jewelery, decoration, artwork, little architectural flourishes.
For the time skip, all of this will be pulled together into one giant picture file that I'll first post up here for review by you guys, and then will be put up to be applied for the time skip.
Some things I'd like to point out about what seems to be trends in our clan, as well as about the contest.
1) The "cultural clothing" thing would be applied to our Faceless, not to player characters, who obviously go around in different styles of clothing. Multiple styles are welcome, but keep in mind some things, like
Bandai's original clothing
,
the Ti'ray masters
, are good starting points.
2) The same applies to the jewelry and stuff. I mostly want to add little things that Reza or Team Drowtales, or whoever is our next artist, will have a template to draw upon that will look better than the whole "peasant shirt and leggings" we currently have. This includes Tattoo patterns and such.
3) Our city, from all appearances, is going to become a metropolis in the coming years. Let's come up with some architectural styles that would pervade the city. In the past our designs have been a mix of Chinese/Japanese/Buddhist, Indian, and pure spartan-utilitarian architecture. Something to keep in mind when drawing up your designs.
-Buildings we should design:
--->Shop fronts
--->Apartments
--->Houses
--->Barracks/Training Yards
--->Golem Hangars
--->Stables
--->Bars/Restaurants/Taverns
--->Cross Roads/City Squares/Fountains/Monuments
--->Temples/Ti'ray Dojos/Other Nonessential, Nonbusiness buildings
--->Tax Offices, City-Watch Posts, Government Structures
--->We already have a bitchin' forge/craft studio, but who is to say we don't have better designs out there?
--->Warehouses, Fishing Quays, Slaughter Houses, etc.etc.
--->Arenas, Slave Pens, Prisons, Stocks, etc.
--->Send in suggestions for what other stuff we need put together please =3
4) Obviously, designing weapons for our people is far easier than anything else, this will be a huge argument I know, there will be people who say "we are fine as we are", people will have trouble agreeing on direction and things. This is why for you to actually take a meaningful part in this conversation, BACK UP WHAT YOU ARE TALKING ABOUT. Do not just throw out stupid stuff about real world architecture, utility, etc. We're beyond the need for pure survivalist attitudes at this time (even if that has always been what defines our clan), and if we are not at this time, we will be after the time-skip.
Over the next few days I'm going to be adding the images that we have well established are a part of clan symbolism, look, and architecture.
Our Clan Symbol, both simple and complex forms of it (including the original colored form of it):'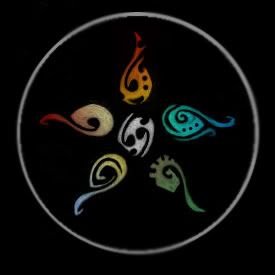 -For simplified colors please note that it is a silver center, and the colors/elements (in clockwise order starting at the top) are: Red/Fire, Blue/Water, Green/Earth, Yellow/Air, Orange (or maybe White and Red)/Flesh+Bone
I have a banner redesign pending based on these patterns, I think it'll be satisfactory to all involved as long as we can all generally agree our first symbol is awesome and is just fine and it's original colorations don't need to change
Existing Information on Patterns of Looks
Clothing/Tattoo Patterns:
Ti'ray Masters=
Bandai's Original Look=
If I might suggest, common colors would be the colors used in the symbol above. Notice how Bandai's clothing is Red and White? The same color as the seed for Flesh and Bone? =3
Architecture:
Fortress Keep, by Jonarus Drake:
Forge/Crafting Hall, by Avidavi:
Library, by Jonarus Drake:
School, by Jonarus Drake:
I'll be adding stuff as and when I can find it, and below I'll put the popular player submissions (remember, original work, provided by existing members will take precedent over anything else, if you get someone outside the game to make original work, that's just fine, so long as it is -your- idea and they're just giving shape to it) =P
Player Submissions
Temple of the Moons/Elements by Jonarus Drake:
Watch Tower, By Jonarus Drake:
Watch Tower/Lighthouse/Semaphore Hub by Tim:
Industrial Outpost, by Avidavi:
Engineer's Workshop, By Avidavi: