suntiger745 wrote:Pretty cool designs but I have to wonder, where does the knowledge of this tech com from? Ingame I mean.
We've built spider golems, tank golems, hand held auto fire cross bows, construction cranes, field ballista, fixed ballista, crew serviced heavy mounted auto crossbows, the algae harvester, the boats, theoretically the sawmill as part of the Stone Harbor restoration, a massive retractable drawbridge using counterweights and mana power (at least one, more if the river mouth defenses were built), the wooden ball bug golem, and all sorts of other neat stuff, not to get into the stuff discussed but never made it into the illustrations.
While the ballista themselves have only been shown once in a illustration (just a couple beams of the first crude prototype) their existence, development and production is well documented. The major problem was they became one of the many victims of the map/ work action debacle since we were able to get the make ballista parts into inventory but never got make ballista entered. But we had at least a dozen or more on hand before the time skip and plans to make an upgraded version.
To break down the tech knowledge displayed in this turret:
(Illustrations available on request)
Ballista Mechanism - Ballistas have been built and improved since the surface colony was established.
Reloading/Retensioning of Bow - Auto Crossbows were first introduced by the clan in the under world by the scouts and have been powered up and improved ever since. We have the knowledge to apply to ballista, which are essentially big crossbows.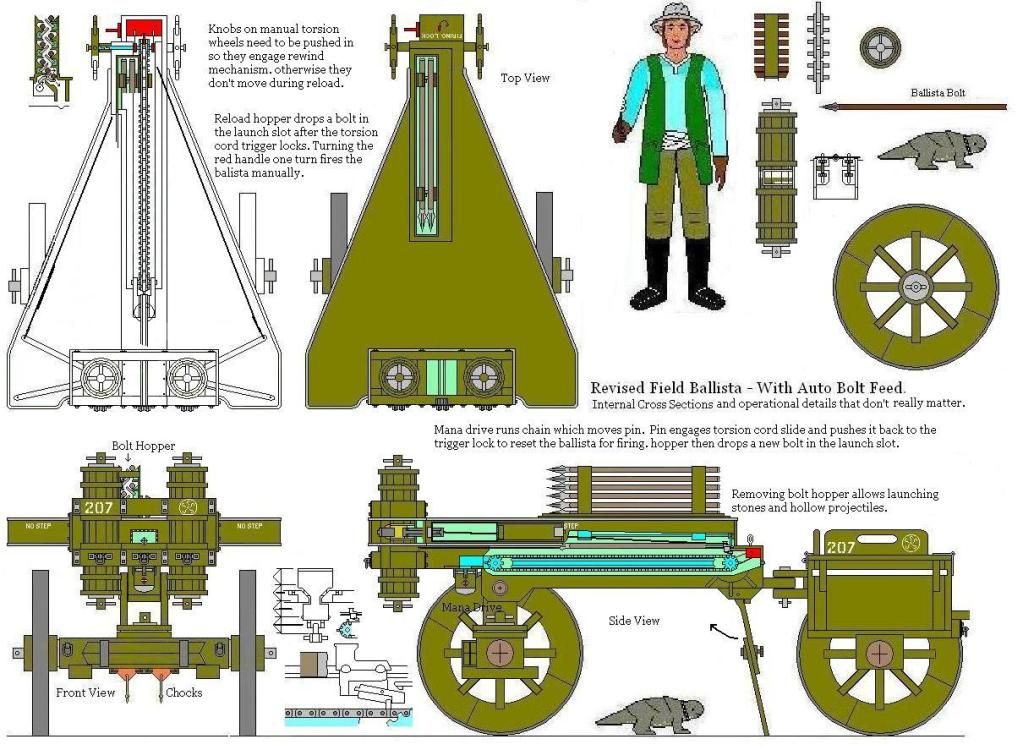 Turret servos, lifters, arms, whatever you wish to call them - Essentially they're just elbow joints and a swivel, golem components that we've used over and over in the spider golem, the mining golems, and the latest wooden golem. We're familiar with them and their controls so there should be no problem adapting them to this usage.
Structural components - Whatever the ship is made of that we've been repairing it with or what we've been using as a substitute. Wood covered with a mana fired ceramic glaze would work.
Bolt types - While admittedly not very evident in the illustrated story, the design and construction of various specialized ballista and crossbow bolt has been a subject of discussion for as long as we've had crossbows. In text we've gotten flaming bolts, armor piercing, and masonry battering mentioned along with flachette, shrapnel, and spread hook designs proposed. And then there are all the mana art variations.
I think that covers the main design needs.