A little story I decided to write about my Character, Lae'ryza. In an unspecified time in the future, she has managed to find everything she lacked... She has a family of her own, a mate she adores, loyal friends... She has become a true Tei'kaliath. Yet when things take a turn for the worse, she is forced to face a threat even she never imagined...
AWESOME cover by
Dsieda
. Thank you, oh great one! *worship*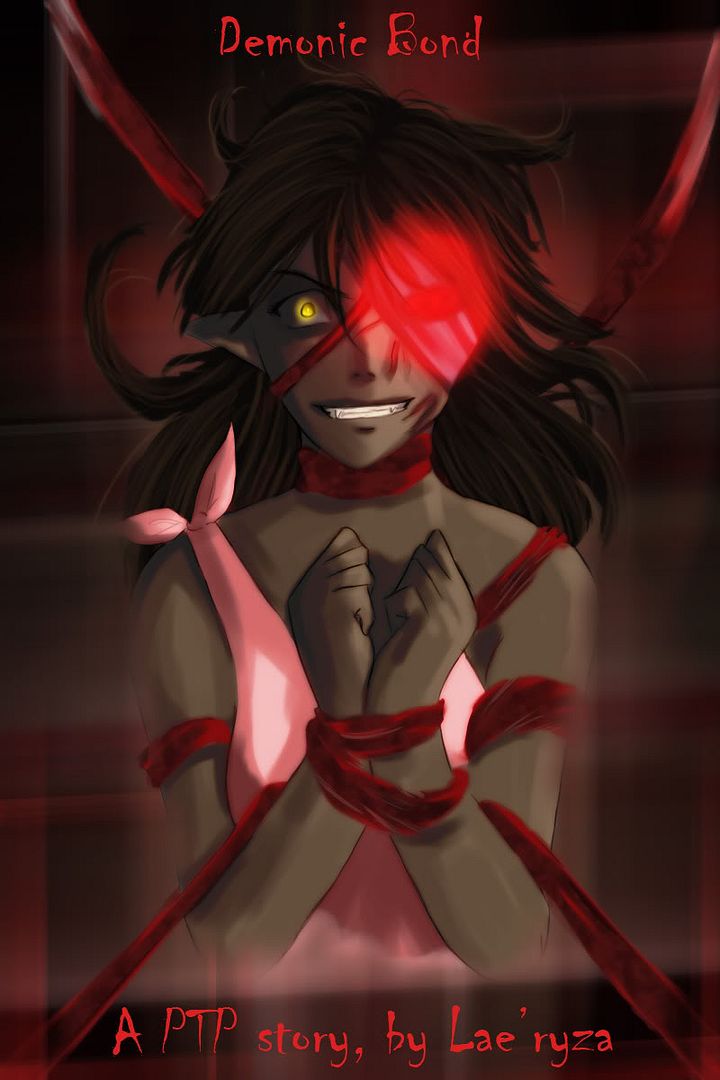 Table of Content
Chapter One
viewtopic.php?f=76&t=13359#p559368
Chapter Two
viewtopic.php?f=76&t=13359#p559455
Chapter Three
viewtopic.php?f=76&t=13359&start=15#p559685
Chapter Four
viewtopic.php?f=76&t=13359&p=559836#p559836
Chapter Five
viewtopic.php?f=76&t=13359&p=559974#p559974
Chapter Six
viewtopic.php?f=76&t=13359&p=560354#p560354
(emo) Note from the Author
viewtopic.php?f=76&t=13359&p=560555#p560555
Epilogue
viewtopic.php?f=76&t=13359&p=560563#p560563
Chapter one
She could feel it grow, fusing with her skin, pushing it's way through her skull, into her brain. No matter he much she cried, screamed, she could still feel it invading her body. No matter how much she tried to claw it out, to rip it way, it only got deeper, further into her. Where was everyone!? Why wasn't anyone answering her call for helps!? She couldn't die, not yet! Her mate! Her children! Who would take care of them if she disappeared!?
Slowly, the pain started dimming, and she felt her consciousness slip away...
*-*-*-*
"Sweet?"
"Hey new mom, wake up!"
Lae'ryza smiled as she felt her family gather on her bed; her mate sitting next to her and her two recently adopted children crawling up to her, poking her arm in an attempt to wake her.
"Think you mom needs incentive." Said the heavily accented voice of her lover.
"INCOMING!" Both of her children shouted in pair before pouncing on her, tickling every single part of her body that they could reach.
"Okay, okay! I'm awake, I'M AWAKE!" She struggled, laughing as her children kept on tickling her gleefully, eventually ending the assault in a single, giant hug. She wrapped her arms around them, kissing each of their heads before looking at her mate.
"Fair night, love?" He smiled, stealing one of her hands, taking it in his own.
"I think I'm going to prefer my morning..." Both smiled to each other before stealing a small kiss from their lips.
*-*-*-*
She felt a pinch in her heart as she waved her children goodbye. She knew they were only going to their daily tutoring, that they could be in no better hands than Ves'xilé's... yet it broke her heart every time she had to see them leave.
"It's silly..." She said, turning in direction of her mate. "We've had them for what, a moon turn? And I'm already attached to them as if I had them for my whole life..."
"Is good." She melted as she felt her lover's arms wrap around her, his lips caress her neck... "Is you."
"I love you, sweety..."
"Love too..." Both remained silent, simply enjoying the other's presence... Lae'ryza turned as she felt her mate pull away from her, stealing a kiss from his lips. "See you tonight, sweet."
"See you after work..."
*-*-*-*
"Mar... Raz..." She crawled, putting all of the strength she could gather in her fist. The stones she held to were her life, every centimeter closer to Ther was a a leap closer to help, to her loved ones... Her children... it had taken so long before she had managed to gain their trust, to convince them to let her take care of them... what would happen to them if they were left alone once again?
*-*-*-*
"This is NOT A DRILL! Everyone in position!" Shiir shouted as soldiers ran all around, scouts following in their trail... rumors spread fast among the population. One of their own missing, blood curling screams heard in the distance, a man having to be held by the warriors, demanding to see his mate, two young kids crying... all prepared for the worse as the search parties were prepared. Another dead would soon weight on all of their minds...
"WHY CAN'T I HELP LOOK FOR HER!? SHE'S MY FRIEND!" Dsieda screamed, holding Kir'ima by his cloak. She had to do something, her friend needed help, yet these idiots were HOLDING HER BACK!
"We don't know in what state she'll be when we find her, Dsieda..." Kir spoke gently, trying to calm the fiery girl. He understood her plight all too well, but he couldn't let her accompany them... !You heard the screams, we ALL did..."
"She's ALRIGHT! She HAS to be!" She tightened her grip on Kir'ima, trying to shake him as harshly as she could, yet the solid man barely moved, only shaking his head, saddened...
"You can't be sure..." Dsieda froze as she felt a hand come on her shoulder. "Even if there is only a slight chance that she may have something, do you really want to risk it? Do you really want to risk.. seeing your friend's corpse?"
Dsieda's grip on the Scout Master weakened as she turned to look at her own voice of reason. Cres'sin.
"Y..yes..." Cres hugged her as Kir removed her hands from his cloak. She knew she hadn't convinced anyone, that the whole discussion was over from the start and that she would need to stay helplessly in Ther while she waited for news... but pride prevented her from accepting this fact... "I want..."
"Her mate is in massive shock, he isn't in a state to take care of their children, Dsieda..." Kir walked forward, knowing Cres'sin's presence would prevent her from doing anything reckless. "They know you well, they need someone they trust by their side... you know she would want you to be with them..."
She nodded, burying her head in Cres'sin's chest. That's what she would want... but that's not what SHE wanted...
"We will take good care of them sir. Go without worry."
Kir nodded at Cres'sin before turning around, heading in the darkness of the cave the scream had come from...