The name explains it very raw what the subject is.
We need to explore the surrounding squares that
HAVE NOT BEEN EXPLORED YET
.
This is a short list of zones we can explore per 2 turns. The sooner those zones are explore the sooner we can plunder them for all their resources for the construction of our city.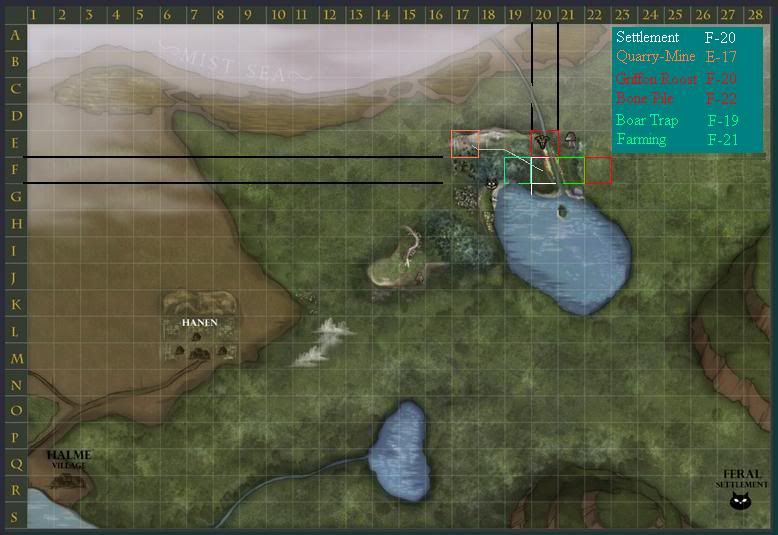 Zone 1. D-20 to D-17. Requirements will be fur coats made by leather crafters from the deers the hunters caught to protect the explorers from the harsh cold winds that may be a prelude for a very harsh season our clan is simply not prepared at this time to deal with.
Zone 2. G-22 to D-22 to simply ascertain the threat of the griffins if there are more nests of those big sized critters. We might have to send military search and destroy teams to wipe them in order to expand in that region. Any farmer who wants to risk their necks right next to those wild game deserves their fate if they get caught by their talons claws if they already know the damn risks and nothing was done to deal with said risk.
Zone 3. G-16 to E- 16 and G-15 to E-15 Exploring the west zone of the ruined city. We need to know the full layout of this big empty ruined city. We also need to know if there are any abandoned golem graveyard sites nearby. Also a good way to try and find those pesky raccoons nests. The other thing is to see how far there might be kotorcs raiding parties and halmes explorers that might want to settle in that ruin.
This exploration can be done in less then 3 turns from now. Zone 2 and Zone 3( G-16 to E-16) can be done rather fast. Zone 1 will require a turn to wait for the completion of the fur coats to lessen the burden of the explorers.