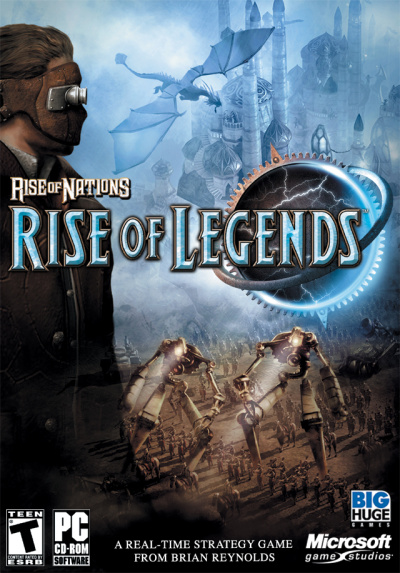 You need to Right-click and click "Open image in new tab" to see the original image.
Rise of Legends
cinematic intro trailer:
https://www.youtube.com/watch?v=rvXF3oGy-iE
For those who aren't familiar with
Rise of Legends
, it's a fantasy RTS PC game developed by Big Huge Games in 2006. The same company that developed the famous historical RTS game
Rise of Nations
. There are three factions you can choose to play in the game, namely:
Alin

— Magical pseudo-Arabs with genies, golems and dragons.
Cuotl

— High-tech pseudo-Mayans with Jaffa-like soldiers, laser-shooting mechs made of stone and energy shields.
Vinci

— Steam-clockpunk pseudo-Italians with steam tanks, airships and steampunk robots.
This G4TV video review of
Rise of Legends
should tell you more about the game.
http://www.g4tv.com/videos/11688/rise-o ... f-legends/
BTW, regarding my poll question above, those two new races are actually non-canon and made by myself for my Rise of Legends 2 story idea in
Spacebattles Forums
. Just to make setting and the story more interesting. The new races are:
Kahan

— A race of barbarians and pseudo-Mongols from the Beastlands that can tame and control giant beasts in that region. Such as ogres, giant eagles and dragons.
Skald

— A race of magical pseudo-Norsemen and Slavs from the Northern Scars that have giant ice-breathing birds, ice golems and griffins.
Here's my crossover fanfic idea. My knowledge of Drowtales is limited so please correct me if I'm wrong.
--------------------------------------------------------------------------------------------------------------------------------------------
The premise is like this—25 years after the events in Rise in Legends, a group of brave Cuotl explorers traveled east across the ocean on board their modified civilian-version of the Fane
*
, in search for new region and new knowledge. After nearly two months of travel, they had finally reached the Isles of Nuwa; they had discovered the New World.
*:

A Cuotl barrack. It can fly and carry troops from one place to another. Think of it like a Terran Barrack from StarCraft but made of stone.
The islands were inhabited by a race of humans known as the Emberi. They were shocked to discover there was another continent beyond the Great Sea that had human civilization, with distinct culture and "magical" technology that were unlike they had seen before. The latter part made them to believe these "Cuotl" were actually humans with elven blood, as only elves were capable of performing magic. However, the Emberi became more astounded after the Cuotl explorers revealed there were two other civilizations in Aio—the Vinci and the Alin, where it was the latter that actually possessed magic, as well as they had never heard nor there were elves in their land.
After several weeks of living with the locals, the Cuotl explorers left the Isles of Nuwa for their home in Aio. News of humans came from a continent beyond the Great Sea quickly spread like wildfire across the human lands and eventually, the drow underworld. Meanwhile, as soon as the Cuotl explorers arrived at their homeland, news of their discovery had reached to every corner of Aio.
A few months passed, dedicated merchant vehicles—Vinci airships, giant flying beetle caravans of the Alin and Cuotl civilian Fanes—arrived at the coastlines of the New World to trade, from Nuwa Islands of the Emberi to the Halme kingdoms.
Over time, these common trade locations transformed into trading outposts and many people from across the human lands sought these "Aionese" newcomers to gain access to new spices, foods and items that they brought with them. While Cuotl were an uncommon sight, Vinci and Alin could be found in nearly every major and moderate settlement in the human lands as traders, scholars, explorers and sometimes missionaries. They gradually came into contact with light elves and drow through traveling merchants and trading posts of both Val'Illhar'dro and Val'Nal'sarkoth from the Underworld.
Upon learning the existence of the Underworld and its drow inhabitants, one Dark Alin scholar sought to explore the region to learn more of its people, culture and the environment. To seek more knowledge while become the first Aionese to establish their presence there, as well as to form diplomatic and trade relation with the natives of Chel'el'Sussoloth.
--------------------------------------------------------------------------------------------------------------------------------------------
Now for some
Rise of Legends
music to make this crossover interesting.
https://www.youtube.com/watch?v=3WbQ5WEVGCY
https://www.youtube.com/watch?v=Mf-0fAUG1JY